Clotilde García Carriedo (1924 - 2015) - a tribute
(escrito en castellano)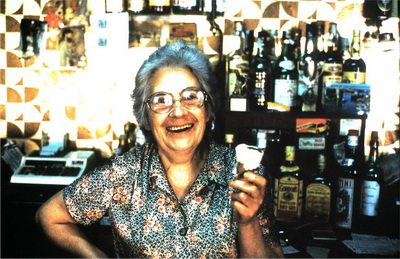 Cuca behind the counter in Bar Germán.
We first met Cuca in August 1970. A motley crew of mostly non Spanish speakers, we must have looked like a group of "on-the-road hippies" as we arrived in various vehicles at Bar Germán and introduced ourselves as "espeleólogos Ingles". But Cuca was Cuca and she immediately took us under her wing. Food was produced and the liquid hospitality of the bar embraced with enthusiasm.
Cuca negotiated for us to camp in El Cajigal, a small wood used by the community for various activities. The Guardia Civil soon showed up to try to move us on, but Cuca placated them - telling them that we were "gente muy simpatico". The folk singing in the evenings may have contributed to that, though keeping their family awake to the early hours may not! Through all the years we have continued to visit Bar Germán, the tolerance of our excesses by Cuca and the whole family has been a feature of our enjoyment of the Matienzo experience.
We had a number of trips in the early seventies. Though not fruitful in caving terms, we were always welcomed with great hospitality by Cuca and family. After a very successful visit in 1974, a number of people decided to spend six months in Matienzo. We arrived in March 1975 at the bar. It was cold and wet and we said we were intending to camp. This was immediately rejected by Cuca, who insisted we stayed in an old house they owned. Over the next months we did camp, but the bar was offered as our shelter from the rain. We lads would sit round the table with our wine while the girls would be taken into the kitchen for sticky buns, chocolate drinks and copas of Cuarenta y Tres.
Cuca was always a wonderful cook and would give us occasional cookery lessons. I learned my recipe for Spanish Tortilla from her at this time and it won a competition forty years later! She gave us a Spanish recipe book "Cocina Practica" which I still have and use to this day - thanks Cuca! Leche Frita was another of her specialties, a sort of set custard fried in batter, very sweet and loved by children. Cuca was always great with the local kids and the sweetie treats would always come out when families visited the bar.
Cuca was obviously well respected and well known in the whole area, a true matriarch. When on a very rare occasion it appeared something had been taken from one of the tents in El Cajigal, Cuca set to work and, using her connections in the village, was able to return a penknife which a youngster had taken, within 24 hours. A truly formidable lady, when she wanted to be.
When Hilly and Wendy accompanied her to Ramales it would be a continuous series of meeting with friends, with introductions to the "Inglesas", usually ending in a visit to daughter-in-law Pili's house for more sticky buns and Liquor 43.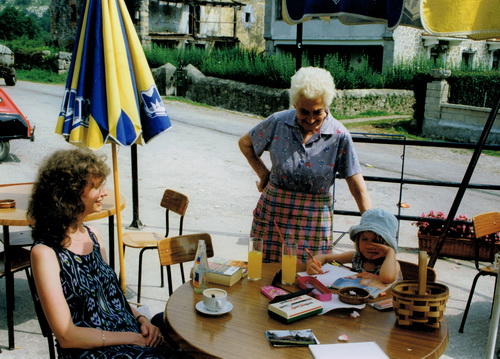 Cuca with Rachel.
Over the next years we were really drawn in to the Spanish family. Every visit we would be welcomed as part of this family with hugs and kisses as part of a genuine "pleased to see you and what is happening in your family" greeting. After a visit there would be sadness from Cuca to see us go, but she always sent us on our way with a carefully wrapped tortilla and a couple of bottles of wine for the journey.
Of course, over the years the number of folk visiting this superb caving area increased dramatically, so the personal touch would not perhaps have been so obvious, but all will remember the meals Cuca produced in the small back room and then later in the restaurant with the help of other family members. I have a wonderful memory of her coming into the back dining room to serve a meal she had cooked for about fifteen of us. She had her curlers in and, on seeing I was about to take a photograph, was so mortified that she should be seen on film, rushed back out to tidy her hair before returning smiling.
Patience is a virtue they say and Cuca certainly had that. Trying to work out what the English wanted to buy must have been a trial at times. I remember Penny saying that Cuca had told her to ask for the trade name of tinned peas, as she thought it was too difficult for the English to pronounce the word "guisantes". Another visitor's comment was that his Spanish must have improved as "last year I asked for two beers and got two oranges." This year he got what he wanted! All of this though would be received with Cuca's understanding smile and acceptance that the Brits would never speak properly.
Over the years some of the visiting cavers had their own children and Cuca seemed genuinely delighted when this happened and that we still chose to visit. Birthday parties were celebrated in the back room for Jenny, as 21st August was usually expedition time and Carolina and Cuca's grand-daughter Noelia were all of similar age.
Some of the visiting cavers purchased houses in the village and this of course meant that people visited at other times than just in the summer. It also meant that they became more fluent in Spanish. Penny and the two Julies and others would have time for more interesting and more relaxed conversations with Cuca.
Cuca's husband Germán died in 2004 and this was felt greatly by all the families, both English and Spanish. The restaurant and bar were now the responsibility of Pablo and Anna, while Cuca seemed to take a quieter role, but was still to be seen on our visits, taking a real interest in our children growing up.
A wonderfully kind and helpful lady, we will always remember Cuca at Bar Germán.

Lank Mills, November 2015
---