---
Section links • Easter • Pre-summer • Summer • Autumn • Christmas / New Year
---
January / February The MCP permit area for 2022 has been outlined by the Federación Cántabra de Espeleología. In the past, boundaries have been set using mainly administrative borders, e.g. Ruesga, Solórzano, etc. This year, a set of coordinates were received which outlines the permit area for 2022. Although the 2022 area is similar to the 2021 area, there are quite significant differences in some places. On the updated area map with caves, or on a tourist map, the 2022 permit area is shown within a cyan line and the 2021 area as a red line.
---
This time of year is often very quiet when it comes to cave exploration, and the start of 2022 was no exception. "Consolidation" is possibly the best way to describe the activities.
Vicente Barraquet from the Espeleo Club Tortosa has published a comprehensive journal about the activities and finds in the far reaches of Cueva Vallina (0733) last year. They also have ambitious plans for 2022. A translation into English of their 2021 activities is here.
Photos of the divers at resurgence cave Cueva Molino (0791) in April 2004 have surfaced and photos of a nearby site (1099, Torcón del Cárabo) were emailed by Carlos Lamoile. Signs of the "maquis" were seen - rusty cans and egg shells. Carlos also sent in photos of Cueva de las Grajas (0089) and Cueva Statua (0487). He also failed to find Joe's Lost Cave (3280).
ADEMCO have shared their survey work in Road Works Pot (3334, Llueva), calling it Torca Inglesa.
As part of encouraging cavers back to Matienzo, Phil Papard has put together a list of sites which may repay further attention - something for everyone here. In the documentation, he also picked up some site duplications: in the past, at Seldesuto, site 0490 was refound as 0508; above the Mushroom Field, 0513 (Ladies' Pot) was refound and repositioned as site 4132 and, at Riaño, the not-located site 0765 was probably refound 20 years later as site 3269. If so, there is an undescended pitch to investigate. Cueva de Vaca Loca (0763) now has a "health warning".
Pete Smith also found duplication - on Enaso, site 4513 is the same as 1827. He was also busy around Ogarrio, clarifying the cave systems, obtaining better entrance positions and adding to the photo documentation.
As well as taking more videos and panoramas from a drone flying over sections of the South Vega hillside, Juan Corrin explored site 5089 and located a couple of holes (sites 5157 and 5158) to descend high above Torca de Azpilicueta. At Garzón, site 5078 was further documented with photos and video - a possible draughting dig. The shoring in Two and a Half Fat Ladies (0880) above the Mushroom Field was inspected and found to be in good shape despite not being worked for more than 2 years.
There was pleasing news in early February that the company promoting the Quebraduras windfarm (down the east side of Solórzano) had withdrawn their plans.
In early March, the surveys included in the 1974 Matienzo journal were scanned. The paper surveys were origianlly published as a number of sheets for readers to stick together. These new digital images have been stitched together, tidied up and put online. Thanks to Phil Berrie for donating a clean copy of the 1974 publication. (See 0027, 0036, 0048, 0059, 0081, 0105 and 0107)


The list below shows links to those 53 sites which were extended or newly discovered over January and February, or which have had surveys, references or descriptions updated, photos or movie clips added, or entrances repositioned using a GPS.

Arredondo 0733 Vallina, Cueva;
Bustablado 0791 Molino, Cueva del (resurgence); 1099 Cárabo, Torcón del;
El Naso 0059 Molino, Cueva del; 0188 shaft; 1827 cave; 2484 shaft; 2884 dig; 3142 resurgence & sink; 4514 hole;
El Rincón 4892 resurgence;
Fresnedo 2769 shaft;
Garzón 5078 Buena Onda, Cueva de la (LC225);
La Colina 0089 Grajas, Cueva de las;
La Secada 0081 Carcavuezo, Cueva de; 0513 Ladies Pot (mp); 0543 Seis Pozos, Cueva de; 0880 Two and a Half Fat Ladies;
Llueva 3334 Road Works Pot;
Muela 0487 Statua, Cueva;
N Vega 2665 dig;
Ogarrio 0003 Collusa, Cueva; 0286 Mazo 5, Cueva del; 0961 Mazo, Cueva del; 5151 Chopo, Cueva del; 5152 shaft; 5153 Lluriangos, Fuente de;
Ozana 0027 Oñite, Cueva;
Riaño 0105 Riaño, Cueva de; 0107 Hoyuca, Cueva; 0765 cave; 3269 hole;
S Vega 0036 Vera Negra, Torca de la; 0048 Reñada, Cueva-Cubío de la; 0333 Azpilicueta, Torca de; 1005 cave; 1902 cave; 2081 Muérdago, Torca del; 2973 cave; 5089 Dos Árboles, Cueva de; 5090 depression; 5154 sink; 5155 shaft; 5156 shaft; 5157 shaft; 5158 shaft;
San Miguel 3280 Joe's Lost Cave;
Seldesuto 0490 shaft; 0763 Vaca Loca, Cueva de;
unknown 0908 shaft;

• January / February logbook

Juan Corrin 6/3/2022
---
Easter

Note that site descriptions (with photos, surveys, videos, etc) are being updated in numerical code order. See red text below the Surveys table.

Introduction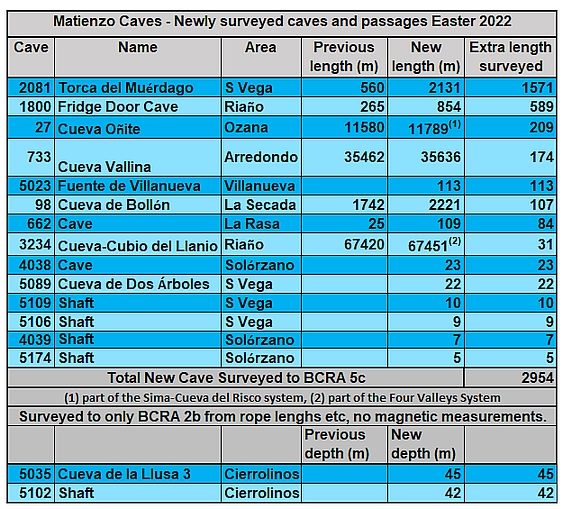 After two years without an Easter expedition due to Covid it was great to get back to Matienzo with an expedition and the office set up at the back of Pablo's Bar. About 35 cavers visited Matienzo spread over nearly five weeks during and after the Easter period. In late March, when the first members arrived, water levels were a little high following some good weather. However, as they arrived, rain, snow, hail and lightning set in which curtailed the planned work on high level sites. When cavers attempted to get to the Hazas de Cesto area, they were confronted by 4cm of snow and hail on the road over Fuente las Varas and down to Solórzano and then lightening started with more hail - they retreated to a bar instead! By the time the main contingent arrived the following week the weather had turned much better, with warm to hot sun and little rain, it only turned poor for the odd day at the end of the expedition. But the early wet weather did put up water levels and curtailed some work in Reñada and Fuente de Villanueva.
The permit for 2022 is similar to that in the past few years but, given the Covid situation since 2019, there is still a lot of work to be done in the Hazas de Cesto and Ribamontán al Monte areas as far as the motorway, and especially around Monte Llusa.
Due to the better weather early in the year and the late Easter, vegetation levels were much higher than previous Easter periods and this greatly affected the ability and speed to explore some of the dense and prickly jungle in the Monte Llusa area!
During the Easter period, 33 new digs and caves were found and recorded. Some have been pushed but work (pushing, digging etc) for a number is still needed. Some 81 sites were visited with over 120 trips/digs made during the expedition. In total over Easter nearly 3km of new cave were fully surveyed (see table) being the best Easter expedition since 2016.
The main finds this Easter were in
A number of finds are still to be fully surveyed and pushed (capping etc required) including two shaft type caves surveyed to BCRA 2b each over 40m deep: Cueva de la Llusa 3 (5035) and a shaft (5102). Also shaft 5031 is over 50m deep but is still to be surveyed. All three of these sites are in the Cierrolinos area of Monte Llusa.
Southern Sector

At Cueva Vallina (0733), The area around Zona Blanca and Swirl Chamber is very complicated and it was not clear on the surveys if parts were linked. Also, some passages that the Tortosa group had pushed were not on the current survey. Over two trips much of the issues were sorted out with links made between known sections and 174m of new cave survey was carried out.
In the South Vega area, the find at Christmas of Torca del Muérdago (2081) was pushed, surveyed and photographed over the course of nine extensive trips. The cave was extended to well over 2km with a number of leads still to push and survey. The cave is heading south of the Cruz Usaño ridge with the stream section possibly heading towards the resurgence in Hoyo Mortiro. Another possibility is that it turns again and goes SW towards the Cueva Vallina Rio Rioja area. Water tracing in the summer (given suitable water levels) will be considered. The cave, like Cueva de los Cantones (0865), has a number of sandstone beds / lenses that form the impermeable bed of the stream passage that gets lower until it drops the bed into a bigger passage. In this cave the beds dip down to the south and form a number of slides over the slippery sandstone bed (log flumes) that in low water may be fun, but if water levels rise, getting back could be problematic. (The extent of the cave can be seen in an overview survey.)
The weather turned wet towards the end of the pushing trips and the lower sections were not visited on the final trip due to this risk. Upper levels at first follow a SE trend but then turn SW. It is just possible that these levels may be related to the dry passages found by Jim Lister in Vallina 3.
A trip into Cueva Codisera (0039) during the early bad weather found the traverse over the drop at the bottom of the entrance slope, and the various climbs/traverses had been very well lined with stainless bolted hangers with security nuts. In 400 Pesetas Passage 18 bats were seen well-spaced out. All but one was at roof level, but one was hanging from a rock on the floor with its head only a few mm from the ground – we concluded it was scared of heights.
Four previously undescended shafts were visited on S Vega to the SE of Codisera, 5106 and 5109 were descended to chokes and surveyed at 9m and 10m respectively. Shaft 2913 was found to be a free climb in a choked rift 7m deep. Shaft 5162 was found under gorse bushes and, on a later visit, to be a 6m pitch (bolt placed) to a rubble blockage that was dug to an oscillating boulder jammed over an echoing second pitch of about 7m – work is required to remove this to drop the pitch in the summer. In same area two other sites were checked out (2550 & 3131) as well as a overgrown rock floored shakehole (5161) but all were choked with no draught and are poor prospects.
Two drone flights were made in the Papá Noel area as part of the aerial mapping program.
At La Rasa (up on north side of ridge above Seldesuto), in site 0662, now called Tonsillitis Pot, a crawl was dug to a pitch head and on a subsequent trip this 21m pitch was dropped and passages at the bottom pushed and surveyed. In total 84m of new passage and shafts were surveyed making the site 109m long and 61m deep. One of the two man team had a heavy cold (or tonsillitis) at the time (assured and tested not to be Covid!) hence the name of the passages and shafts named after the symptoms!
In the North Vega area four sites were checked out and new photographs added, one (0440) could initially not be found - but was a few weeks later and the grid reference corrected. The others checked out ok (0360, 2666, 2667) with the latter two stuffed with old tyres to block entrances to safeguard cows etc. Three new sites were located, Two Tyres Cave (5159) of 2m to a possible dig & Three Tyres Dig (5160) were to the east of the Arnilla depression and the entrances were again stuffed with tyres. The third was a 4m deep rock shelter cave (5166) with two small holes at back but no draught. At Cueva de Dos Árboles (5089) the site was surveyed to 22m and the rift at the bottom needs checking by a thin person prior to any digging.
In the Cubija valley, two new sites were located: a shaft (5165) was a blind 1.2m wide pitch of 7.8m behind a strawberry tree, but with no draught; and a 9m deep shaft (5189) that was descended on a ladder that did not reach the bottom, but the base looked choked. A photographic trip also was made to "Wonderland" in Torca del Mostajo (0071).
On El Naso a number of trips were made to check out undescended or partly explored holes. Sites 0614 and 0615 had not been found in previous years and again 0615 could not be found. It may have been partly filled with rubbish and is now under brambles. At 0614 the GPS point was reported to be an undescended 25m draughting shaft needing work to access. A hole at the back of the shakehole was found with an inward draught. This was dug over two days to access a 3m deep shaft that was draughting in but lost its draught, we think, due to dropping soil down and blocking the bottom. Work is needed to open up the shaft so the bottom can be dug (too small a diameter to dig at present) and will be a major effort. However, the location is important and, with easy access by car, it is a realistic prospect.
Site 0837 was visited, the grid reference corrected and a couple of photos taken.
A possible dig 1602 was found at the GPS location and opened up, including removing some bed rock to gain access to a 4m drop into a rock-floored chamber. There was an small inward draught and this site is worth a further look in hot weather to check draught and prospects.
The shaft 1608 proved hard to find, but the GPS proved accurate to locate the capping rock that had been overgrown so it did not look like anything of interest. The capping stone was uncovered and removed to gain access. The shaft is a 4m drop to where a boulder blocks the way down a further 3m to what looks like a rock-floored chamber. Again it seemed to have a small inward draught, but this needs checking in hot weather. The boulder can be easily removed with the correct gear to gain access, but care needs to be taken not to disturb blocks just below the entrance.
Photographs were taken of the long rift system 1880 and of the nearby separate rift that seems to be site 1940 given the gps.
Two new sites were located, a draughting dig 5163 that opens up and is 3m+ deep. It has a good outward draught in hot weather, but given its high location the draught may be local. A 2-3m deep shaft (5181) just below ridge line was found but not descended and no draught was detected.
At the entrance of Cueva Coberruyo (0138) below the climbing routes, a possible flint knapping stone was found. Due to the proximity and use of the area by climbers it was removed and reported, as required by our permit, to the Cantabrian Ministry of Cultura and taken on their instructions to the research offices of the Museum of Prehistory and Archaeology of Cantabria. A copy of the receipt for the item is in the logbook.
In the Muela and La Colina area, work was done to check out possible surface shafts and sites with some pushing / surveying work in the Sima-Cueva del Risco system (0025). In the Risco end of the system, a link was found by climbing up and traversing a rift in the roof of Galeria Arco into Dambuster Series, a safer route into this part of the system. At the other end of the system (Cueva Oñite, 0027) an inlet off the southeast side of Mavrino was pushed over two trips along a tall rift stream passage and along a traverse to a mud / rock choke with tree routes that must be near the surface. This work added 209m of cave to the system.
On Muela, checking for existing undescended holes found that shafts 1954 and 0803 could not be found at or near the location. At shaft 1795 it looks like the capping rocks have been grown over and so now do not look like a shaft top, this needs opening up and the site pushed. Two new undescended sites were found: shaft 5168 at 5m deep with cow bones seen at bottom and with no draught and shaft 5169, 5m deep in fractured karren area, 3m from a path.
On La Colina, a surface check on various known sites was made on a day off from pushing Torca del Muérdago (2081). The cave (1027) was found but at about 30m south of the grid reference. A hole at the back of the cave was dug to a fist sized gap through which it looked bigger beyond. The nearby site (1028) could not be found (maybe it also had a wrong grid reference by 30m?). The rock shelter (1029) was found and given a new GPS'd grid reference and cave 1030 was found at the given grid reference but was only 2m long not 6m. A new cave (5164) was located and found to be 8.5m to a fist sized hole with no draught.
The North-East Sector including The Four Valleys System

In La Secada, Two and a Half Fat Ladies (0880) was dug on two occasions, the first solo and the second with a team of three. Some 40 bags of fill from the dig down at the end of the crawl were taken out. The dig (5045) above Pablo's barn was dug on one occasion, about half a metre more digging is needed to be able to see down the draughting drop ahead. Also dug were cave 1292 that had a slight draught, and the bottom of Superfostato (0200) where there were signs of flooding and it would be interesting to visit in wet weather.
The somewhat squalid Cueva de Bollón (0098) was pushed on three occasions, the first solo and the second with willing helpers, who were less willing after the trip. But, on giving a certificate to exempt the bearer from any further trips into the cave after a second squirm, two happy cavers returned to push and survey the finds adding 107m to this cave first pushed (but clearly not fully) in 1974. It shows what persistence can achieve in well-known caves. Two older sites were searched for, shaft 0229 could not be found but 0295 was found with the old grid reference and description accurate.
At Fresnedo, the cave 2414 was dug in the entrance crawl with the aim of removing pooling of water, so making future digging easier.
At Riaño, in Fridge Door Cave (1800), Jim Lister continued his diving push following the two year break due to Covid. It had been hoped that Mark Smith would join him from Hong Kong, but he was confined to his flat and not allowed out due to the strict lockdown Covid laws in place, so solo diving and pushing was needed. As expected, the water levels were high and flooded at the bottom of the entrance. Jim had planned for this, and the tight bypass section was dug out to allow Jim to fit through in a wet suit and start the dive and push the continuation in sump 2.
On a second trip sump 2 was passed and higher level passages found, which were pushed and surveyed on a third trip adding 589m to the cave. These high level passages are on the same level as some at the western end of Cueva-Cubío del Llanío (3234) and about 90m away. It seems very probable these passages are all part of the same system. It was decided the best option would be to try to dig from the Llanío end and, if a connection was made, all the leads left open in higher levels in Fridge Door Cave can be pushed from that end.
To start this process digging took place in Llanío at a draughting tube towards the west end of the system off High Pulse. Good progress was made but more needs to be done in the summer. If this link can be made it is even more useful to dig out the connection between Fridge Door Cave and Cueva de la Espada (0103). If these links can be made it would put the Four Valleys System at about 71km in length. (Videos of Jim's work in Fridge Door Cave can be found near the base of the site 1800 description.)
A surface search above these upper passages in Fridge Door Cave only found a group of 4 small draughting digs (5191). A further dig was carried out at a draughting, sandy dig beyond The Hub - an easy dig towards an area with no known passage. A GoPro pushed in ahead shows it's worth continuing.
Using SubPhone Entrance (4536), two trips checked out possible leads in the area south of the Ski Slope - none went any distance, one requires digging and one local connection was made. On another trip an aven was climbed 20m to a draughting choke above the Ski Slope and then some progress was made in "We Were Not The First" above Torno Inlet - easy digging and more work is needed in this area.
In Cueva Hoyuca (0107) a visit to Pig Trotters Chamber removed an old, now rusty, ladder.
Northwest Sector

At Quebraduras, east of the main road in Solórzano, five new sites were identified in an area of forest where access is difficult. The finds were adjacent to either open track or field thus needing limited jungle bashing.
Site 5173 is a depression with two small caves of 2m and 3.5m sloping down to a flat floor and probably closing down - but it would be useful to check the draught in hot weather. Shaft 5174 could be worth a dig at the base of its open 5m deep rift, but the bottom was filled with decaying dead animals! Shaft 5175 was the deepest of the five being about 12m deep with pitches of 3m, 2m and 5m to a cross passage that chokes both ways. Shaft 5176 was 9m deep with a jammed block at 3m, but looking down the remaining 6m the chocked floor could be seen. Ffinally, shaft 5177 is a 4m drop to where the way on is either down over debris that needs removing or through a slot that needs opening to a continuation that draughts out. The floor could not be easily seen but was disto'd to 5m.
In addition, two known caves were visited, site 4038 was surveyed to 23m in length with one resident bat, but few digging prospects, and Car Parts Cave (4039) that has had a dismantled car dumped in the 7m deep shaft. It looks like there may be some small continuation but the car parts would need to be removed first. A check for a draught in hot weather would be useful - it is not worth digging if there is no draught.
At Hornedo, a trip into Torca la Vaca (2889) via BigMat Calf Hole (3916) was made to push and survey leads beyond Bathtime Baby in the lowest level below Scafell Aven. Water levels were found to be too high, and the team looked at leads in the area of Tuna Can Corner, a small draughting find that closed down..
At Navajeda A possibly promising dig (5172) in a large depression at the side of road was found but not yet dug.
North Sector

At Hazas de Cesto, two new sites were found at a time of high water levels: a resurgence (5187) that will be worth a look in dry weather, and a 6m undescended shaft (5188). At El Rincón, the resurgence (4892) was dug with good progress, but more work is required. On a second visit to dig and survey the water levels were far too high. Work will progress in the summer.
The Ribamontán al Monte area is shared with the Club Montaña y Espeleología La Cambera. At Monte Llusa, a surface walk, checking sites found from maps and LiDAR prints, was made from near the high parking spot on the east side of Monte Llusa working down to the east of Villanueva. The high growth of the jungle stopped access to some locations and most sites accessed proved un productive. Only one site of any interest was recorded, a pit (5167) 5m deep on the uphill side but only 1m on the downhill side, with the bottom choked. This area needs checking out in late winter prior to spring growth.
Nine sites were investigated around Cierrolinos, with three going to over 40m deep. Cueva de la Llusa 3 (5035) was pushed over 5 trips that involved opening up the top of various pitches including those of 3m, 8m and 15m with complications of climbs to parallel shafts and tight rifts. The site has a BCRA 2b survey and is about 45m deep and requires more work to open out tight rifts, etc and to fully survey.
Shaft 5102 was dropped but the top is loose mud and rock needing great care. This shaft was sketched to BCRA 2b and is about 42m deep to a choke. Shaft 5031 was rigged and dropped with an extra "Y" hang at 8m near a hole in the wall that needs opening to reach a larger passage beyond. At the bottom of the pitch, at about 60m depth, the passage curves round to right to a rubble fill. There is a draughting crack on the left wall that can be opened up. The site is still to be surveyed.
Torca de al Basura (5060) was checked and two high level possibilities were found in this 10m deep site. These are the likely source of the good draught, but were not pushed.
Five new sites were located: 5171 a draughting collapse not yet dug; 5178 a draughting hole in the north corner of the depression, a major dig through earth and boulders; 5179 draughting digs at each end of a limestone outcrop in a depression; 5180 a cave with a dig down a slope needing bedrock removing to make progress and 5183, a small cave 20m to SW of 5060 is 3.5m deep with a small draught, and now needs digging.
To the NW of Garzón a dig 5170 was found but is still to be fully assessed. Further northwest, at Villanueva, the major resurgence (that we have called Fuente de Villanueva (5023) feeding the stream in the village, was surveyed but the water was too high to reach a climb up found in 2020. The high water level probably explained the lack of draught that had been found in previous years. Jim Lister dived the sump with a single cylinder and reached a large underwater passage with a cobble floor. Being on a single set, he tied off his line and retreated, planning for a fully kitted up dive in the future. Unfortunately, a few days later after heavy rain, the water had become cloudy and risen to cover the dive base to such a depth that further diving was not possible. This will be a major objective for the summer.
The following work in La Estrada (Anero) was carried out with the agreement of La Cambera and work in Moncobe with the club G.E. Pistruellos.
At La Estrada (Anero) just north of the motorway lies an old mill and water pumping station fed by a significant gated resurgence (5184). The water is likely to originate, at least in part, from the Cierrolinos / Monte Llusa area. Up a side stream towards the motorway, a cave was found above where the stream emerges in boulders. This cave (5185) clearly floods, given the mud covering most of the cave. It was not surveyed but is about 25m long in total and leads to an upward dig with a possible small draught and, below, what looks to be a sump pool about 2m deep.
Cave 5192 was found just north of the stream emerging from 5184. It has a strong outward draught coming over a deep pool with the cave seen continuing beyond.
In Moncobe, the Pistruellos club reported to us that they had carried out a dye test from Hoyo de la Encina (5182) to Cueva la Verde (4486) at La Cavada. A surface walks up the Bencano Valley checking for possible leads failed to locate the shaft 3755. This site was also looked for in recent years and not found so it is assumed it may have been filled in.
Easter Expedition account by Phil Papard, 3rd May 2022

Additions (included below)
• Photos received from Nigel Easton for explorations in 4265 , 5031, 5111, 5114, 5115, 5116
Survey updates
0025
Risco / Oñite
Complete (ARi, PS)
0098
Bollón (with 1452)
Complete (ARi, JC)
0662
Toncillitis
Complete (ARi, PP)
0733
Vallina
Complete, as much as currently possible
Catalanes (Vicente et al / JC - in hand)
1027
cave
complete (SCo, DAr)
1029
cave
complete (SCo, DAr)
1800
Fridge Door
complete (JL, JC)
2081
Mistletoe
in hand (SCo, DAr) Overview survey
2889
Vaca
sketch linked from description (JCa)
3234
Llanío
complete (TR, JC)
4038
cave
complete (PP, GS))
5023
Villanueva resurgence
preliminary (JL, JC)
5035
Cueva Llusa 3
complete (PPa, PP)
5102
shaft
complete (AL, PP)
The list below shows links to those 119 sites which were extended or newly discovered over the Easter period and into May, or which have had surveys, references or descriptions updated, photos or movie clips added, or entrances repositioned using a GPS.
All updated except #2081 (description, final survey) (4/6/2022)
Arnilla 5159 Two Tyres Cave; 5160 Three Tyres Dig;
Arredondo 0733 Vallina, Cueva; 4286 Prado, Torca del; 4808 cave; 4835 cave; 5194 Lleres, Cueva de; 5195 cave; 5196 cave;
Barrio de Arriba 4265 shaft; 5114 shaft; 5115 shaft;
Cierrolinos 5031 shaft; 5035 Llusa 3, Cueva de la; 5060 Basura, Torca de la (LC186); 5102 shaft; 5171 collapse; 5183 dig;
Cubija 0071 Mostajo, Torca del; 0357 cave; 0358 cave; 1484 cave; 5165 shaft; 5166 cave; 5189 shaft;
El Camino 0085 Cuevona, Abrigo de la;
El Naso 0079 Wendy, Sima; 0138 Coberruyo, Cueva de; 0534 dig; 0614 shaft; 0615 shaft; 0837 shaft; 1602 dig; 1608 shaft; 1880 rift; 1940 cave; 2125 shaft; 3229 shaft; 5163 dig; 5181 shaft;
El Rincón 4892 resurgence;
El Sedo 0025 Risco, Sima-Cueva del;
Fresnedo 2414 cave;
Garzón 5170 dig; 5178 dig; 5179 dig; 5180 dig;
Hazas de Cesto (west) 5187 resurgence; 5188 shaft;
Hornedo 2889 Vaca, Torca La;
La Cavada 4486 Verde, Cueva la;
La Colina 1027 cave; 1028 shaft; 1029 cave; 1030 cave; 5164 cave;
La Estrada (Anero) 5184 resurgence; 5185 cave; 5192 cave;
La Rasa 0662 Tonsillitis Pot;
La Ruela 5182 Encina, Hoyo de la;
La Secada 0098 Bollón, Cueva de; 0200 Superfosfato, Cueva; 0229 shaft; 0295 cave; 0880 Bingo; 1292 cave; 1452 Hole in the Road; 5045 dig;
Llaneces 5193 cave;
Moncobe 3024 cave; 3755 shaft; 5190 digs - 3;
Monte Llusa 5116 shaft; 5167 shaft;
Muela 0159 shafts - 3; 0489 Espino, Cueva del; 0803 shaft; 1795 shaft; 1954 shaft; 5168 shaft; 5169 shaft;
N Vega 0360 Cuvia de la Vega, La; 0440 shaft; 2666 shaft; 2667 shaft;
Navajeda 5172 dig; 5186 shaft;
Ozana 0027 Oñite, Cueva;
Quebraduras 4038 cave; 4039 shaft; 5173 caves - 2; 5174 shaft; 5175 shaft; 5176 shaft; 5177 shaft;
Riaño 0107 Hoyuca, Cueva; 1800 Fridge Door Cave; 3234 Llanío, Cueva-Cubío del; 3302 cave; 5111 shaft; 5191 digs - 4;
Riva 5110 Fuente la Pila, Sima de la;
S Vega 0039 Coquisera, Cueva de; 0265 Copudia, Cuevas de; 0267 Overhang Cave; 2081 Muérdago, Torca del; 2550 shaft; 2912 hole; 2913 shaft; 3131 shaft; 5089 Dos Árboles, Cueva de los; 5106 shaft; 5109 shaft; 5161 dig; 5162 shaft;
San Antonio 0713 Aguanaz, Fuente;
Solórzano 3994 Dos Casas, Sima;
Villanueva 5023 Villanueva, Fuente de;
---
Pre-summer Site 0508 has now been documented by John Southworth.
Some more early sites have had Survex centre lines built from old surveys using Patirck Warren's Inkscape add-on. These reconstructed centre lines are distinguished from practical cave surveys by the suffix "-RCN " as can also be seen on the whole area Survex file.
The new centre lines (with passage widths) are for Cueva Seta (0093), Torca del Somo (0049), Peter Plummet (0239), Nacimiento del Río Clarin (0115), Cueva de Cobrante (0110), Torca del Cueto (0041), site 0330 , Cueva del Túnel (0658), Cueva de Coquisera II (0825), Sima de las Llanas de Porlacebo (0952), Sima HR6 (0954), Torca de la Azuela (1751), Torca de Blas (1760), Cueva de la Brazada (1948), Torca Bendito Pantin (3332), Cueva del Jabalí (3750), Torca Tilana (4247), Cueva del Término (4319), Cueva de la Raza (4335), Torca de Tantas Noches (4340), Cueva la Verde (4486) and Torca de Portillejo de Tocornal (1745), the pothole with a 207m pitch to the east of Cueva Vallina (0733).
The latest survey for Vallina shows the probable differences (in plan) between last year's surveys and those from the '90s in the far north of the system.
Simon Cornhill and Diane Arthurs have finished drawing 15 surveys, documenting some of their explorations over the last half year. The new survey links can be found on the description pages: 0353, 0810, 0904, 1027, 1029, 2134, 2798, 4659, 4853, 5082, 5140, 5141, 5142, 5143 and 5164. The detailed drawing up of Mistletoe Pot (2081) is a work-in-progress!
---