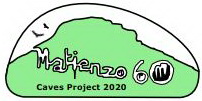 Matienzo Caves Project 2020
News and cave exploration around Matienzo during 2020.
A map with area names can be found here.
Section links • Easter • Pre-summer • Summer • Autumn • Christmas / New Year
January / February
A part-survey of Cueva Vecina (0096), just above Cueva Emboscados (0087) was carried out. Low on the side of El Naso, site 5011 was explored into a 7m diameter chamber with a couple of crawls leading off.
In Las Calzadillas area, Lorry Pot (1776) was pinned down with a grid reference and further photo. This hole has yet to be explored. Close to this shaft, another small one has been documented (5003). Phil Goodwin completed the survey for La Sima Grande de Las Calzadillas (4772) and provided more photos.
To the south of the depression, sites 0823 and 4661 have been updated with entrance photos and at San Miguel, Cueva del Llanío (0435) has been better positioned.
The 200m diameter, circular depression just below the summit of Monte Llusa (west of El Rincón) was approached by walking in along an old track through a depression to the southwest. The Monte Llusa depression, apparently full of jungle according to aerial photos (and standing at the rim), has a number of black holes on 1956/57 black and white aerial photos. In late January, it was easy to drop down through minimal jungle to relatively jungle-free areas under the trees to the base of the depression. Three of the 'black holes' were inspected, turning out to be shallow depressions with no sign of shafts. But it is well worth a more detailed search.
Jessica Eades has started the Matienzo Bats in Caves Project. Details are found on the dedicated Bats Project page.
In the hope that an extension to the permit may be granted in the near future, sites around the Cierrolinos area, south of Monte Llusa, have been investigated. These have been given X codes at the moment and some of these have been previously investigated by Spanish groups.
It's been reported that the Tejuelo group have been in site 4246 (Hoyón 2) but no further details have been given.
The cavers in the Colectivo Piezo, based in Madrid, have been continuing work to the south - exploring in Cueva del Coverón (0002) and Torca CEZ (3603), trying to link the two systems. Better GPS coordinates for the entrances have been taken but the key would be a more accurate survey of, at least, CEZ to pinpoint possible underground areas for pushing. The group have also explored the nearby Cueva del Tronco (0632) a small passage, entered between blocks, dropping to -20m. They also documented 2808 in the same area near the road, a site first seen by the MCP in 2008 but out of the permit area. Torcón was explored down to -35m in a roomy, "very pretty torca" with routes off but no hope of extension.
A small group spent a long weekend in Matienzo with the underground activity centred on the dig in site 4732, north of the Mushroom Field. Boulders were removed and a rift entered into 15m of "easy passage". A draughting route down in the rift requires enlarging then laddering to explore. The team had a long walk on the south side of Llueva, visiting the Muela summit then descending to Ogarrio. Most of the holes seen were "out-of-area" so have been documented as X027 to X033. Sites 0170, 1774, 0129 and 0316 were seen and alternative GPS readings taken.
Due to worries about the spreading coronavirus, specifically that two of the potential participants had recently returned from northern Italy, the Matienzo pre-Easter meeting on March 7th has been cancelled. Some of Phil's Agenda items have been (partially) addressed and those and the Agenda can be seen by following these links:
• Meeting Agenda
• Items 3, 4 and 10 - MCP Project report, 60th event and book (Juan). See also Gran Fiesta web page
• Item 6 - Equipment (download - Steve);
• Item 7 - Finances (Sue);
• Item 8 - Bat project (Jessica Eades);
• Item 9 (Easter and summer - please fill these in as appropriate or let Phil / Juan know of dates).

Questions about expedition objectives (items 11, 12, 13) can be raised with Phil through the Facebook page or Google Group.
The list below shows links to those 18 sites which were extended or newly discovered over January and February, or which have had surveys, references or descriptions updated, photos or movie clips added, or entrances repositioned using a GPS.
Alisas 4246 Hoyón 2, Torca del;
La Secada 96 Vecina, Cueva; 4732 hole; 5011 cave;
Las Calzadillas 1776 Lorry Pot; 4772 Sima Grande de Las Calzadillas, La; 5003 shaft;
Muela 129 Muela, Torca de la; 170 cave; 316 shaft; 1774 M-8, Sima;
Riva 2 Coverón, Cueva del; 632 Tronco, Cueva del; 2808 Torcón; 3603 CEZ, Torca; 4661 shaft;
S Vega 823 shaft;
San Miguel 435 Llanío, Cueva del;
Easter / Pre-summer / Summer
Date 21/3/2020:
• The Easter expedition has been cancelled due to lock-down in Spain, virtually no transport and social distancing / isolation.
• The summer 2020 events to celebrate 60 Years of speleology around Matienzo have been postponed - to reappear as a 61-year celebration in 2021 - if COVID-19 and the governments allow.
• The summer caving expedition is most unlikely to occur. Some people may be able to visit Matienzo, but there is no guarantee than the current Spanish lock-down will have eased to allow hill walking / caving. A permit has not been issued.
• A small amount of new cave information will be processed and published after Easter, along with maps, etc.
JSC 10/2/2020; 3/3/2020; 21/3/2020